A Conversation with Samael Collected Exclusive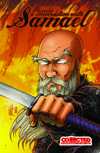 A Conversation with Samael is a story about death and the willingness to preserve the lives of all of your friends. The story follows an individual who has lost entirely too many of his friends. Through a journey of flashbacks, conversations, and alcohol, he comes to the realization there is only one way to stop all of the death. He must have a conversation with a gentlemen named Samael. While the journey leading up to the conversation was long, tiresome, and emotional, it is nothing compared to the battle that comes from it…..
This version of the comic has a cover illustrated by Andrew Mangum (DC Comics) and colored by Gene Jimenez (Stargate, Hatchet). It an exclusive for the store Collected Comics and Games in the Dallas/Ft. Worth Metroplex. The cover was limited to 75 so grab one before they sell out!